EVENT HQ
The HQ is at the Hemel Hempstead CC Club Room, Nash Mills Recreation Centre, Red Lion Lane, Kings Langley, HP3 9TE and will be open from 8.30am until 3pm.
AT THE START
When you arrive at the HQ, if you have pre-entered, you will be directed to the 'Signing On Desk' to receive your 'Harp Hilly Hundred Timing Card', ('HHH Card'), which is your unique rider number for the event and you are ready to start.
If you are entering on the day you will need to pay your entry fee at the 'Entry Desk' when you will receive a registration form. Fill in the your details on the form and select the distance you want to ride, 100km or 55km, then proceed to the registration area where you hand the form over to one of the start officials and, after the form has been checked, receive your 'HHH Card'.
You are advised to choose the 55km reliability if you think you will take longer than 5 hours to complete the 100km ride as the HQ will only be open until 3pm
READY TO START
You may start any time between 8.30am and 9.30am for the 100km route and upto 10am for the 55km route. When you are ready to start the ride go to the 'Start Station', which will be located downstairs by the entrance to the HQ, to have your 'HHH card' scanned and your start time logged.
RIDING THE ROUTE
The routes are fully signed and there are also printed copies of the route details and maps available for you to take on the ride.
Harp Hilly Hundred Route Sign

AT THE FINISH
Once you have completed your ride you hand over your 'HHH card' to one of the finish officials who will scan the card so your finish time is logged. The computer will show the time you completed the ride in.;
RIDER TIMING
The Harp Hilly Hundred uses a computer based timing system to record riders' times. We provide each rider with a 'Harp Hilly Hundred Timing Card' ('HHH Card') which has a unique rider number. The 'HHH Card' has a barcode which is scanned when the rider starts the ride to record their start time and is scanned again when they finish to record their finish time and calculate the time they took to completed the ride.
Harp Hilly Hundred Timing Card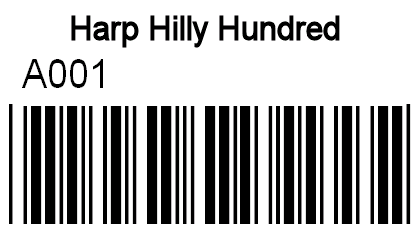 REFRESHMENTS
There are no refreshment stops provided around either the 100km or the 55km routes so you need to ensure that you remember to fill your drinks bottles and take any food you may require with you.
Refreshments, food and hot drinks (tea and coffee), will be provided at the HQ after you have finished.